As the industry continues to evolve, so too does the ease with which signage users can control content, from start to finish. How it works Content, in many regards, is the foundation of digital signage. And as more businesses and organizations venture into the digital signage field, they want the ability to post what they want, when they want and how they want. But often, they lack the know-how. Also, organizations may have strict branding guidelines that must be followed.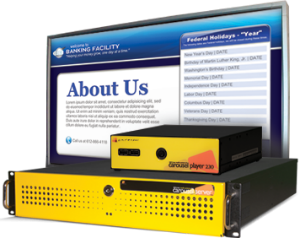 A template, such as the one Tightrope Media, www.trms.com, used in the Port Authority bus terminal, offers an easy way to update the content of digital signage, keeping the message relevant.
Premade, professionally designed digital signage channels with content templates allow anyone to create a compelling message. The foundation of easy-to-use technology is a Web browser interface, which allows users to key-in information and upload images with a few clicks of a mouse.

Tightrope has created a browser-based system, Carousel, that uses simple templates as a starting point for users. Carousel is a signage system that makes untrained users look like designers and encourages them to use the system over traditional alternatives. To better manage the increased amount of demand for screen real estate, software should separate signage screens into any desired number of segments, or zones. A variety of different templates should be available, so users can simply click on the area where they want to add content. Within minutes, images and graphics can be uploaded and text can be keyed in.

Tightrope also has designers available to help a company custom brand its digital signage. Software that is completely Web-based allows users to access and make modifications and updates at any place with an Internet connection. The technology should be powerful enough to host and run several types of media at once, from streaming video to dynamic graphics and RSS feeds that crawl across the screen. Some programs, like Tightrope's, support a robust set of interactive capabilities, which can be used in college campuses and airports for wayfinding.

If it's fun to use and makes them look creative and smart they'll continue to come back to it, which makes the stake holders look smart for choosing Tightrope media.