ThinkHub facilitates collaboration with interactive environment
Charlotte, NC
. T1Visions,
www1.t1visions.com
, a provider of interactive touchscreen experiences, has installed its inTouch Interactive Wall in SAP's U.S. Headquarters in Newtown Square, PA. The touchscreen Wall spans approximately 15 feet and is located in the Executive Briefing Center, where SAP is shifting the traditional meeting format to a more interactive, immersive experience for their customers.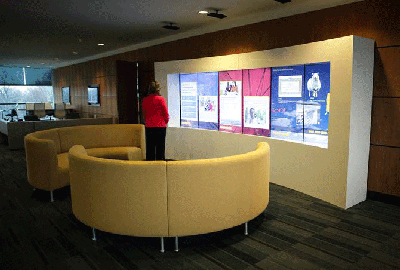 inTouch Interactive Wall
In partnering with T1Visions, SAP sought to tell their story through their customers' eyes. To achieve this lofty goal, the inTouch Wall houses over 2000 customers stories featuring case studies, videos, and testimonial, among other dynamic content. It was important that the Wall contain fresh, new content while remaining low-maintenance for the Executive Briefing Center. To accomplish this, T1Visions worked directly with SAP's existing systems to create a custom API that would pull data directly to the Wall, which keeps content current and requires no additional upkeep from the organization.
To give users control of their own experience, the custom software application enables users to sort and pick through content most relevant to them by applying filters, which in turn makes the discovery process quicker and more efficient. Every component of the project - from software, hardware, content management, integration, training, and ongoing support - was considered and packaged by T1Visions as a one-of-a-kind turnkey solution. Watch the video and download the case study to learn more.
In line with its efforts to transform traditional corporate meeting spaces into more interactive environments - T1Visions recently introduced its newest software application, ThinkHub, at InfoComm 2014. ThinkHub is a multiuser software application designed to help teams to ideate, visualize, and problem solve. By consolidating all information on a large-format touchscreen, ThinkHub transforms traditional meetings into more proactive, effective sessions that positively impact performance and efficiency in corporate teams.