ProductionVIEW HD MV offers the same functionality as Vaddio's,
www.vaddio.com
, existing ProductionVIEW HD, with the addition of multiviewer capabilities and digital inputs/outputs. Combined with the new Multiviewer Touchscreens, you can easily switch all live feeds and create up to 12 "video thumbnails" of preset shots by simply touching the monitor.
ProductionVIEW HD MV
ProductionVIEW HD MV is a 6 x 2 multi-format, seamless video mixer that also provides two discrete outputs for dual bus program feeds (two independent 6 x 1 mixers). Input signals include analog HD YPbPr video, RGBHV, SD (Y/C and CVBS), and Input 6 provides a DVI-I input for RGBHV, DVI-D and HDMI. The Program and Preview outputs have both analog (YPbPr, RGBHV, Y/C & CVBS) and digital (DVI-D & HDMI) outputs. HD resolutions up to 1080/60p are supported.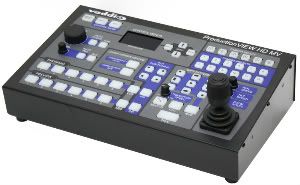 Camera control features include a broadcast-style 3-axis/1-button Hall Effect Joystick with twist handle zoom control, as well as separate Pan, Tilt and Speed control knobs. There are six discrete auto-sensing RS-232 camera control ports. A wide variety of transitions can be achieved through user-selectable buttons built into the control surface. The Lower Screen Graphic (LSG) function allows users to overlay computer graphics onto the program video output.
TeleTouch Multiviewer Touchscreens
The new TeleTouch Multiviewer Touchscreen Monitors allow you to easily see and switch all live video feeds and create "video thumbnails" with finger-touch control. The multiviewer can be configured to display up to six input windows and two larger "Preview" and "Program" windows with red and green tally window borders. The Preview output is configurable for analog and digital outputs and allows for either a standard preview outputs or the multiviewer output. The TeleTouch Touchscreen Monitors are available in two sizes: 18.5-inch rack-mount or a standard 22-inch with base.