Stewart Volume Incentive Program Announced
Santa Ana, CA
. The Enright Company has been appointed representatives for commercial AV for Stewart Filmscreen,
www.stewartfilmscreen.com
, for CA, AZ, NV and HI. The Stewart story is rich: At 55 years of age, Roy Stewart had an opportunity that fit in with his vision of making large front and rear projection screens. With the help of his two sons the purchase was made and a small pilot operation was opened at a former WWII munitions facility in Torrance, CA. Under the name, Roy C. Stewart & Sons, the business produced one lace and grommet screen a week for the movie industry.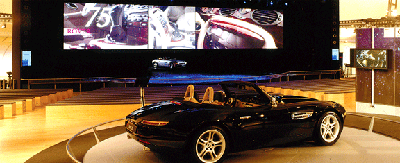 Large Fixed Frame Screen
For more than 65 years now, Stewart has been the consistent choice of discerning clientele of projector screens around the world. Aesthetic-conscious architects, consultants, systems designers, and property owners rely on Stewart Filmscreen for the perfect combination of superior quality, flexible design, and dedicated support, and we consistently deliver.
Now Stewart announces their first ever volume-incentive program for the commercial AV integrator: between October 6, 2014 and March 31, 2015, have a formal estimate prepared by your Stewart Filmscreen Sales Representative or inside sales engineer and lock in a discount based on minimum quantity levels. All standardized Stewart Filmscreen and Cima™ by Stewart Filmscreen products up to seventeen (17) feet in width are eligible. Call or click your Enright Company representative for details!