Camera Series Features Revolutionary Range-Set Image Control
Minnetonka, MN
. Some of the newest offerings from Vaddio,
www.vaddio.com
, include the RoboSHOT Broadcast and RoboSHOT Conference PTZ camera systems. This new camera series features Range-Set image control, a revolutionary new optical image control technology that allows integrators and technical staff the ability to set the appropriate wide field-of-view and optical zoom range to match the live requirements of the room. In addition to Range-Set, the RoboSHOT camera series features a new camera control protocol called Tri-Synchronous Motion by Vaddio. Now pan, tilt and zoom are just one command resulting in the ability to deliver smooth and repeatable "On-Air" camera motion.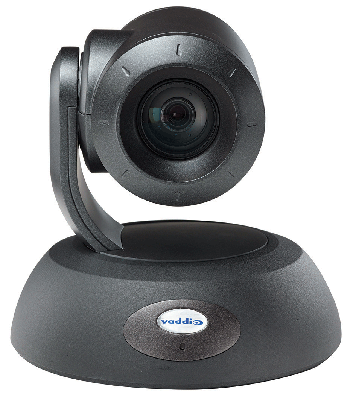 RoboSHOT Camera by Vaddio
In addition to the new camera series, Vaddio has expanded its AV Bridge line by introducing the AV Bridge CONFERENCE and AV Bridge MATRIX PRO. Based off of Vaddio's award winning technology, the AV Bridge CONFERENCE is designed for use with UC and videoconferencing soft clients. The AV Bridge MATRIX PRO is a complete professional AV solution designed to reduce the complexity of designing USB systems for meeting and lecture capture rooms that support multiple cameras and microphones. The MATRIX PRO allows you to add audio and video mixing functionality into one box.
New audio solutions by Vaddio include the ConferencePOD and the Audio Bridge. The ConferencePOD is an enterprise-quality USB 2.0, Bluetooth and VoIP conference phone with echo cancellation and full duplex operation for use with UC applications. Vaddio's Audio Bridge is a professional USB audio interface that allows you to integrate professional audio equipment into USB-based PC applications, Unified Communications, lecture capture, recording or any other application that requires professional audio. Existing meeting room audio equipment can now be used with any UC soft client including Microsoft Lync, Cisco Jabber, Google+ and more.