LED/Laser Technology Means No Lamp Replacements
Garden Grove, CA
. Ro Elliott has served as Music Director at St. Columban Church, Garden Grove, CA, since 2004. One of 62 parishes in the Catholic Diocese of Orange County, CA, Ro selected two Casio XJ-H1700 laser/LED lampless projectors, www.casioprojector.com, for their 1800 seat sanctuary. The church displays music lyrics, scripture and more at all masses for their parishioners on the two front walls next to the alter area.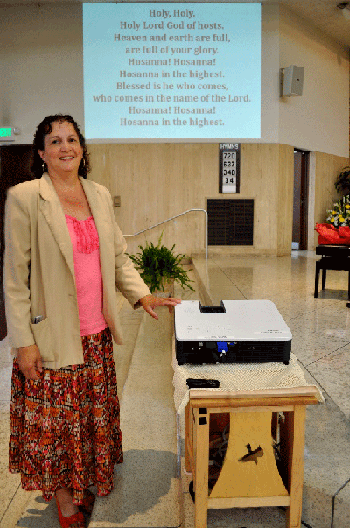 Ro Elliott of Garden Grove's St. Columban Church
is thrilled with Casio projectors
Wayne Trouten of Electronic Design Solutions Inc (EDS), Murrieta, CA, systems integrator for the church recommended Casio,
www.casioprojector.com
, the first hybrid laser/LED projector line, to replace older, dimmer lamped projectors. EDS, founded in 1993, is a full service company providing design, engineered drawings and installation of AV and low voltage systems.
www.myedsinc.com
.
"We are thrilled with the performance of the Casio projectors – they're bright and clear" said Ro who serves under Pastor Juan Caboboy at St Columban. "The idea of never replacing bulbs will save our parish a lot of expense and hassle" Ro continued.
Casio announced they have upgraded the entire 22 projector line with even better color rendition, internal memory, improved wireless features and more at InfoComm 2014. Most Casio projectors are now made in Japan (not China any more) which means will be marketable in government sales as a favored nation.