High-performance displays designed for permanent outdoor installation
Thousand Oaks, CA
. Introducing SunBriteTV's,
www.SunBriteTV.com
, launch of SunBriteDS, a dedicated division of commercial digital signage displays designed for permanent outdoor installation.
SunBriteTV's high pedigree for innovation and consistency will be evident in SunBriteDS through its comprehensive offering of digital signage solutions for integrators, venue operators and dealers.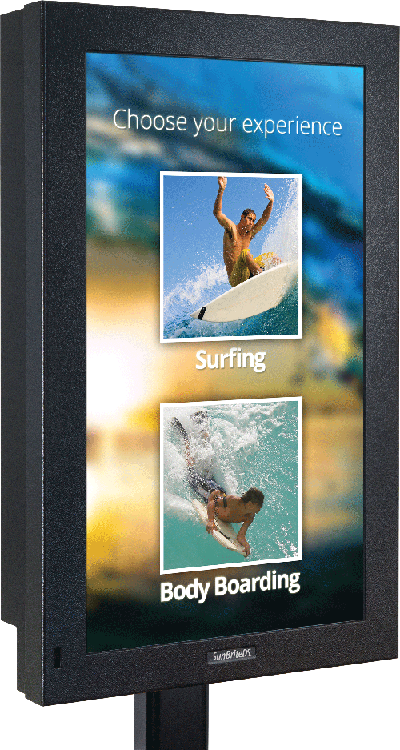 Sunbrite Display
Eliminating any fear of isotropic blackout, SunBriteDS models will boast 700-NIT panels for reliably bright image quality in any climate or lighting. The SunBriteDS family will also include touchscreen models, portrait orientation displays, and sizes ranging from 32" to 55" as well as new ultra-high-performance Marquee Series models.
"We're launching SunBriteDS to give venue operators unprecedented options with outdoor signage," said Cameron Hill, CEO, SunBriteTV. "Between 11 models available in a variety of size, color, touchscreen and orientation options, SunBriteDS will boast 39 SKUs, making it the most comprehensive only time-tested line of outdoor digital signage displays in the world."
All SunBriteDS outdoor commercial displays are fully weatherproof, protected from rain, dust, insects, humidity, grease and salty air due to a rugged exterior and watertight Cable Entry System. All SunBriteDS models function in temperatures as low as -40° and as high as 122° Fahrenheit.
Designed for permanent outdoor installation, SunBriteTV's outdoor televisions are superior to indoor televisions when it comes to both safety and performance. Specialized gaskets and insulated electronics keep all wiring safe from every kind of natural element from moisture to insects. The bright, anti-glare screens are specially designed to deliver bright HD images outdoors, day or night.